Company & Product News
LEDtronics Inc. Announces T5 Sub-Miniature 2-Pin/G4 Base, 12V LED Bulbs Offer up to 90% Energy Savings over Xenon & Halogen T3/T4 Tube Lamps
Read the complete Press Release and down-load the high-res product images at; http://www.ledtronics.com/Media/PressReleases.aspx?pressID=230
Torrance, Calif., April. 20, 2012 — LEDtronics®, Inc., the industry's most innovative LED lamp manufacturer since 1983, announces a series of T5 tube-style LED lamps as direct replacement for 12V xenon and halogen T3/T4 subminiature glass bulbs from 4 to 15 watts, including Xenon 1205X (5W) and Halogen lamps 774 (8W), 891 (8W, 12.8V) and 773 (8W).
The LEDtronics LEDG4BP-2W series of lamps work with high-frequency power supplies for 12VDC or 12VAC, and consume only 0.8 watts at 12VAC, and 1.4 watts at 12VDC voltage input — this adds up to 90% reduction in power consumption.
These subminiature lamps come with a dual-pin G4 base and are available in 3000K warm white or 5500K pure white light colors. They are a perfect fit in applications such as pendant lamps, under-cabinet lighting, landscape lighting, electric signs, scoreboards, step lights, puck downlights, RVs, boats, car bulbs, ceiling fans and anywhere T3 or T4 halogen bulbs are used. A removable 5.2mm lead spacer is included.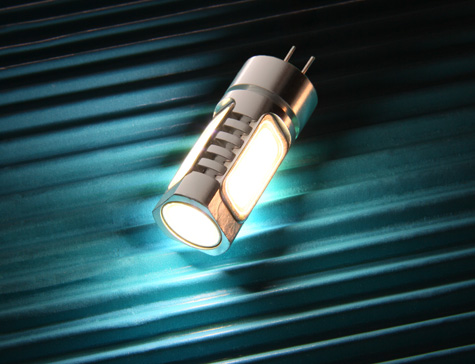 Read the complete Press Release and down-load the high-res product images at; http://www.ledtronics.com/Media/PressReleases.aspx?pressID=230



Webpage to browse the on-line product information for the LEDG4BP-2W Series:
http://www.ledtronics.com/Products/ProductsDetails.aspx?WP=308



Jordon Papanier | Marketing Manager | Extension 120 | jpapanier@LEDtronics.com
23105 Kashiwa Court, Torrance, CA 90505 | Tel: (800) 579-4875 | Fax: (310) 534-1424 | LEDtronics.com
Contact Information
Jordon Papanier
LEDtronics®, Inc.
23105 Kashiwa Court
Torrance, CA 90505
(800) 579-4875